Plastic surgery and celebrity lifestyle go hand in hand these days. Many talks about it openly and many still try to hide it in plain sight.

It can be for you or not but we are no one to judge anyone for their choices.
Kylie Jenner
Kylie is no stranger to plastic surgery. She hasn't admitted to much about any of it earlier. But after denying it for some time she revealed having some fillers on lips and some things here and there. 
Cardi B
Cardi B is one of the celebrities who does not shy away from talking about the work she had on her.
She was not happy with her body after giving birth to her daughter. So she opted for liposuction and a breast lift.
Kaley Cuoco
Kaley Cuoco got her nose and breasts done. She is not the person who regrets any of it.
She stated – "I don't think you should do it for a man or anyone else, but if it makes you feel confident, that's amazing," 
Heidi Montag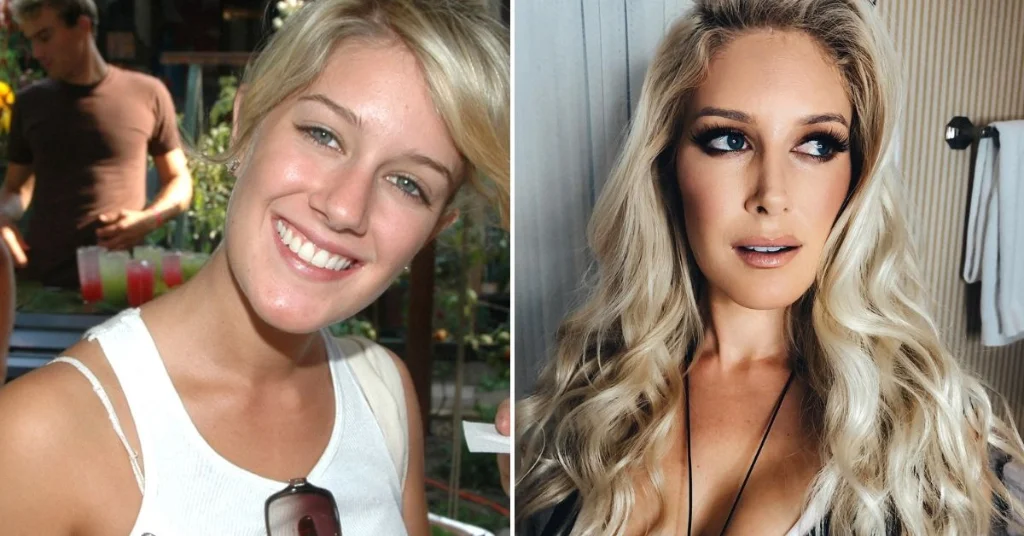 Not everyone is happy with the plastic surgeries they opt for. Heidi Montag is one of them. Her plastic surgery journey was documented on The Hills.
She went for a chin reduction and breast augmentation. She underwent 10 procedures at the same time. 
Ashley Tisdale
Not everyone went for plastic surgeries because they wanted to. Ashley Tisdale didn't have much of a choice with this. She got a nose job done.
She said – "I didn't do this because I believe in plastic surgery. I did this to help my health. I literally almost could not breathe out of the right side of my nose," 
Kourtney Kardashian
Unlike her sisters, Kourtney has admitted to getting breast implants. She got them when she was 21 but says she regrets it now.
Kourtney said – "I wish I never did it. I had great boobs. Now I'm gonna have to get them redone at some point." 
NeNe Leakes
NeNe Leakes got a nose job, breast implant reduction, and lip surgery. She refers to them as a little tune-up.
She says – "I still wanted to look like NeNe, the black woman that I am, but a better version."
Khloé Kardashian
Khloé got lip fillers and says she hates them. "They [expletive] up my face," she said.
That is the only surgery she has been admitted to but the internet thinks there is some on her nose too. But who knows right …
Chrissy Teigen
Chrissy Teign got her armpit sucked out. Surely it's one of the unexpected surgeries but can you complain it's Chrissy after all.
"I had an armpit sucked out, which was one of the best things," She said.
Kelly Rowland
Kelly Rowland always wanted to have breast implants. She thought of doing it when she was 18. But Beyoncé and her mother talked her out of it and advised her to think about it.
Kelly says she took their advice and waited for 10 years.
Iggy Azalea
Iggy Azalea is one of the people who are proud and open about her surgery. She got a breast augmentation done.
She stated that – "I'd feel better not to have some secret. It's much freer to say it and then you don't have to worry someone will dig it up," 
Ariel Winter
Ariel Winter had constant pain because of her breasts. She opted for breast reduction surgery. 
She said – "I got it for myself. I can't even really put it into words about how amazing it feels to really feel right."
Naya Rivera
Naya Rivera got breast implants when she was 18. She says it was a confidence boost for her and she has never looked back.
She wrote in her book Sorry not sorry -"My new boobs were a confidence thing, not a sexual thing," 
Julie Chen
Julie Chen had surgery to make her eyes look bigger. When she came to the industry to become an on-screen reporter. She got a racist comment from her boss that her "Asian eyes," made her look "disinterested."
She made a difficult decision and got the surgery.
Kim Kardashian
Kim has always denied having any work done on her. According to her, the change in her face is due to…having kids.
 She says – "I never had my nose done. Everyone thought I did, and I said, 'Wait until I have kids' because your real features come out,"
I do not know if someone believes her not but okay!
Anna Faris
Anna Fariscomedian and actor got a breast augmentation. She talked about it in her book, Unqualified. She stated the surgery was inspired by her role in House Bunny after wearing a "heavily, heavily padded bra."
 "I'd recently ended my first marriage and I was clearly going through a year of revolutionary change—independence and a boob job!" – She said
Megan Fox
Megan has denied any work done on her but it has a lot of controversies around it.
Many professionals believe that she has got botox and some fillers on her face and lips. 
Britney Spears
 Britney admitted in 2014 that she has had her lips done and other "fun stuff". We don't know whatever that means…
Farrah Abraham
Farrah Abraham has got some work done and has never shied away from telling that. She got her lips filled, a breast augmentation, a nose job, and butt injections. She also got a chin implant which she has since removed.
Tori Spelling
The actress and reality star has openly spoken about her nose job and breast augmentation.
Dianna Agron
Dianna Agron has gotten nose surgery not because she did not like hers. It's because she broke her nose twice in 2011 and had to get nose corrective surgery.
Courteney Cox
Courteney Started taking fillers around 2015. These pictures were taken only five years apart. 
However, in 2017 she was over it and said she had all of her fillers dissolved.
She says she is as natural as anyone can be. This made her feel better now she looks like herself. With time passing things change and it's okay. Everything will drop. She said she was trying hard not to make it drop but that ended up making her look fake.
You need movement in your face, especially if you have thin skin like I do." She stated 
Janelle Evans
Janelle Evans admitted to having her lips done with Juvederm.
She also got her breasts augmented and her cheeks filled.