People love fashion and experimenting with styles, sometimes it turns out to be fantastic sometimes not so much. We all have seen Ana de Armas and her fashion experiments on red carpets and many other events. Be it her sparkly and chic dresses or her Marilyn Monroe representation, Ana has rocked them all stunningly. 
She loves to surprise people with her different and unique looks. The 34-year-old actress was famous for her outfits even before she became a part of Hollywood. She made anime for herself by starring in popular series like the teen drama 'El Internado' and movies.
Ana de Armas walked The red carpet at the special screening of 'The Gray Man' in a silver custom Louis Vuitton dress with a belt in London.
At the premiere of 'The Gray Man', she kept a sharp and clean look with this navy blue three-piece suit by Louis Vuitton.
At an event of the world premiere of  'The Gray Man' she went with the same brand, Louis Vuitton.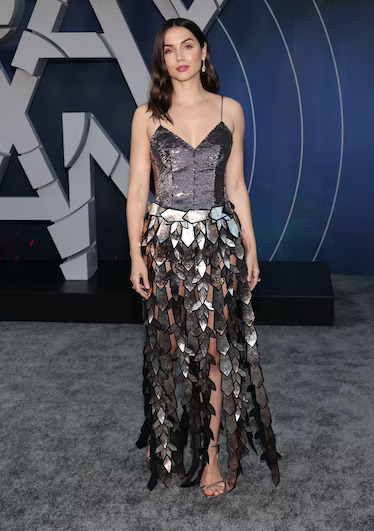 In 2021 at the premiere of  'No Time to Die' de Armas styled a black velvet dress with a stunning high slit.
Ana de Armas looked stunning in her sequin black gown by Ralph & Russo at the Golden Globes 2020.
For the  'Knives Out' London premiere in 2019, de Armas went back to one of her suits. She wore a black and white  Alexandre Vauthier Haute Couture tuxedo.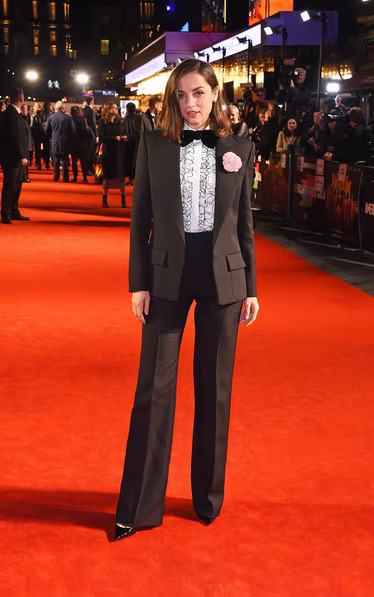 The red sequin dress looked pretty chic on de Armas at the Vanity Fair Oscars Party.
For the 'Blade Runner 2048' press conference screening, Armas went for a pink dress by Proenza Schouler.
At 2017's Bottega Veneta Show, she styled her velvet minidress with a fluffy outer jacket.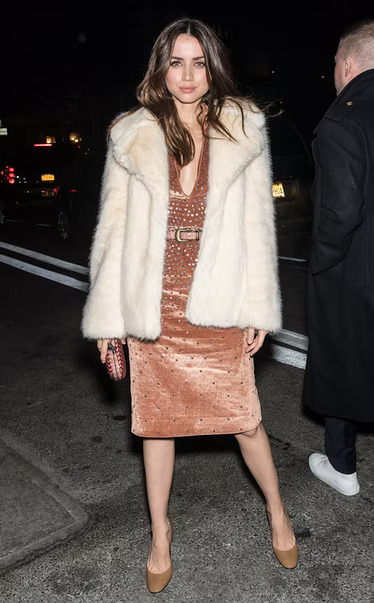 For 2017's Vanity Fair Oscars Party, de Armas let her blonde hair flow down with her semi-sheer silver Elie Saab dress.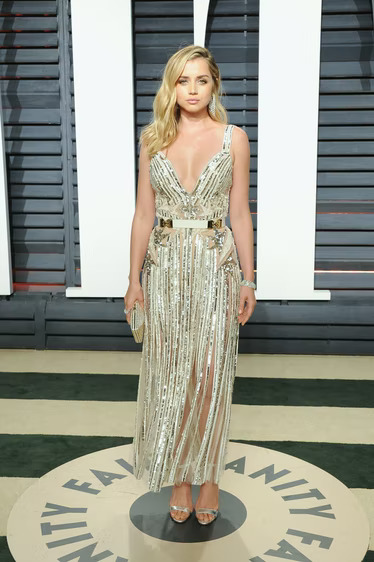 For Cannes Flim Festival 2016 she wore a cream dress with sparkly embeds.
At Sundance Film Festival in 2015, De Armas looked astonishing with a pair of leather boots with leather pants.
At the 'Por Un Puñado de Besos' premiere, de Armas was in a white bridal dress with a ruffly midriff and a beautiful train.
For Malaga Film Festival in 2014, de Armas paid her short blond hair with a white dress with birds and stars along with gold strapped heels.
For the same  Malaga Film Festival in 2014, she carried another look which was an orange elegant dress with a curled updo and red lips.
At 2012 the GQ Spain Event, she wore a black dress and outer jacket coordinated with actress Barbara Goenaga
She was indeed experimenting with this look by Maison Martin Margiela for the H&M event in 2012.
For the 'Skyfall' premiere 2012 in Madrid, de Armas styled herself in a cream and black dress.
At the 'La Voz Dormida' premier in 2011, de Armas wore a simple cream white dress with a black belt.
De Armas styled herself for the 'Despicable Me' with an orange dress at San Sebastian Film Festival in 2010.
For the 'Mentiras y Gordas' premiere in 2009, she wore a jumpsuit paired with pumps.
At the Fotogramas Magazine Cinema Awards in 2009, She wore a multi-layered black dress and kept her makeup simple.
At Belstaff Boutique's opening in 2008, young de Armas rocked a brown top with an outer jacket and jeans.
Magazine launch in Spain in 2008 saw de Armas wearing a sparkly gold.