A 5-year-old girl named Sunshine Oelfke was going through her piggy bank one day after school. Her grandmother Jackie Oelfke saw her and wanted to know what she was planning to do with her piggy bank money. In response, she said that she was carrying it to school for milk.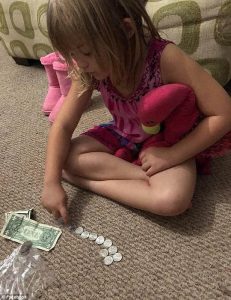 Jackie told her granddaughter that she had already paid for her milk for the month. To which little sunshine replied 'My friend's mom doesn't have milk money, but I do".
Sunshine explained, "I'm bringing milk money to school for my buddy because my friend wants milk and I want my friend to receive milk as well." "We both enjoy chocolate milk."
She had been saving her spare change to buy a snowmobile for herself. But decided that paying for her friend's milk is much more important.
The next day Sunshine and her grandmother went to the school together. She brought her money to pay for her friend's milk. Jackie met with the kindergarten instructor and explained the whole story.
Sunshine's kindness was overwhelming and her instructor, Rita Hausher, stated, "I have always felt sorry when I have had to tell a kid, 'no,' when they ask if they may have milk." 
This motivated Jackie to start GoFundMe for Sunshine's classmate's milk money. She wanted to raise $800 to cover everyone's milk for the remainder of the semester. But kind people from all over the internet helped her raise $19,730 in total.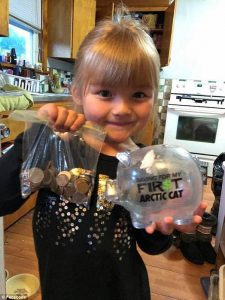 This story took the internet by Strom, people were so overwhelmed by little sunshine's sweet and pure gesture for her classmate.
They were able to not only provide milk for everyone in Sunshine's class. But they also decided to utilize the leftover cash to continue purchasing milk and food for any of Sunshine's classmates.