All parents want the best for their kids, and when it comes to their happiness, parents try to make it all happen. 
One mom from named Charlotte from North Carolina also wanted to make her son's birthday special. As it was hot outside she wanted to get her son a kiddie pool.
But not everything happens as we plan it to be.
Charlotte arrange everything and placed the pool outside. But there was only one problem she did not have a hose to fill up the pool.
Hence she decided to fill the pool with pots from the tap.
It was going to take her a long time if she was going to fill the pool with pots. Her children were waiting and watching if it was going to happen soon.
Fortunately, that's when a fire truck drove by and saw the mom struggling.
They saw the kids getting impatient on a hot day for the pool and it would take their mother a lot more time to fill that up with pots. The Firefighter saw Charlotte struggling to fill the pool and decided to help her with that. 
They grabbed the hose from the truck and used it to fill up the small pool.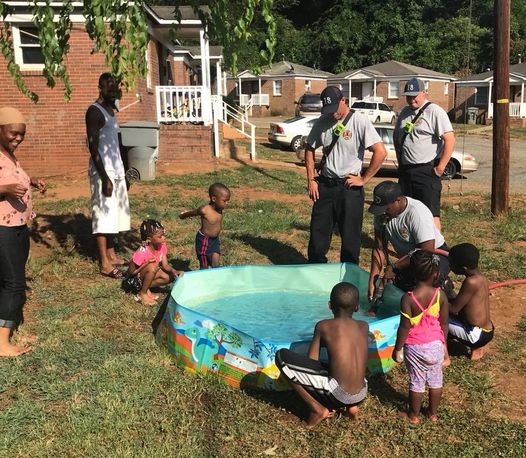 The for kids was soon over and they were jumping with joy and excitement into the pool. The mom was very grateful to the officers for the help. They rescued her son's birthday party from being destroyed. It was more than she hoped for.
The post said: "Firehouse 18 is a neighborhood firehouse full of men and woman who truly care about the families they swore to protect. Today, after leaving a medical call, Engine 18 stumbled across a family desperately trying to fill up a kiddy pool by filling pots from the sink for a little boys birthday on this sweltering day. What was just a simple task for us turned into laughter, smiles, and a lifelong memory for the neighborhood kids as well as the men on Engine 18? Proud to serve the WESTSIDE!"
These firefighters saved the day just by one simple decision to help a mother.
They did not have to stop and help her, still, they did out of the kindness of their hearts.
Many praised this act of kindness by the firefighters on the internet.
One Facebook user wrote:
"This is awesome, brought tears to my eyes. Those kids will remember what you did. Thank you from PA. Stay safe."