Will Smith celebrated his mother Caroline's 85th birthday with a little dance. He posted a video where he can be seen dancing with his mother with the song  I Wanna Dance with Somebody (Who Loves Me) by Whitney Houston.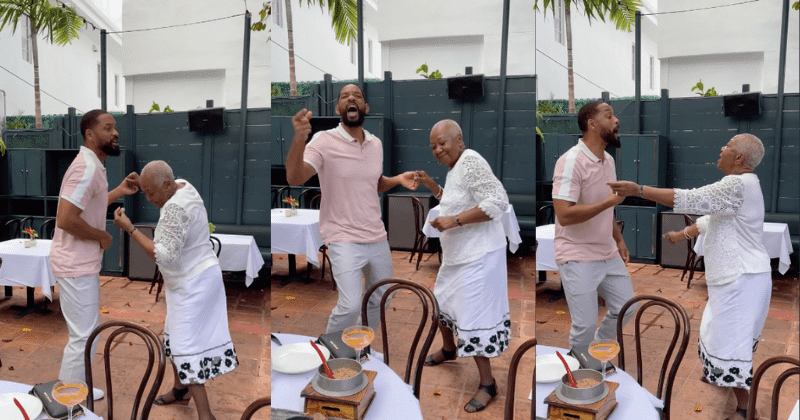 The video showed how happy they were dancing with each other. Smith posted the video with the caption – "Today is my 85th birthday! Mom-Mom, have a wonderful birthday. Let's dance our way to a hundred!". They celebrated in a patio-type setting with a small gathering of friends and family. It was an outdoor event filled with food and drinks.
Will Smith shared this video dancing with his "Mom-Mom", who celebrates her 85th birthday today 🥰 pic.twitter.com/FxzLgy7TWw

— Dionne Grant (@DionneGrant) January 17, 2022
Will and Bright can be seen singing along the song dancing on the beats. Caroline looked beautiful in a white lace blouse with a white skirt with a black floral hem. They both sang along enjoyed clapping and twirling around along the song. Will was dressed in a casual pink polo t-shirt and khaki slacks.
Will's daughter also shared a video of the event on her Instagram story.  Smith's 21-year-old Willow Smith was looking beautiful in a green blouse and shorts. She is cuddling with her father and grandmother in the video and also uploaded a cute picture of her grandmother kissing her cheeks.
In his autobiography, Will smith has shared many personal moments from his life. One of the unpleasant stories involved his mother catching him. When he was a teenager he got caught with his then-girlfriend Melanie Parker. 
Will shared when he was just 16 years old, caroline caught him and parker having sex on the kitchen floor. Parker used to live wills family as her mother was in prison at that time. 
Will recalling the event said his mother did what she'd done tens of thousands of times before. She came down for a coffee and switched on the light to make herself one. But, to her surprise she found her eldest son and his girlfriend engrossed in a wild love affair.
Talking about the incident Will said -"You cannot feel worse as a teenager, outside of physical injury, than having your mother catch you and your girlfriend doggy-style on her kitchen floor," 
Actor, Will Smith dancing with his mum on her 85th birthday. pic.twitter.com/O8eRzmcmMx

— GistReel.Com (@GistReel) January 18, 2022
Will was born on September 25, 1968, to Bright, a former school board administrator in Philadelphia.  He was the eldest one of his siblings. Caroline has three other children Pam, Ellen, and Harry.
According to the Daily Mail, Wills's father Smith Sr. was an abusive father and husband. Will writes about his father and his abusive behaviour towards his mother in his biography. He went through some tough times in his childhood and even considered suicide at some points in his life. He even considered killing his father as he thought being the eldest it was his responsibility to protect his mother and look after his siblings.
Now, the family has left everything behind and leading a happy and healthy life.