Whether you've come across her as the lo-fi girl or study girl, chances are you've probably seen the famous animated character. Study Girl is an animated character created by Juan Pablo Machado for the YouTube channel Chilled Cow and their YouTube stream Lo-fi hip hop mix- Beats to Relax/Study to And she's the face of
their live stream of lo-fi hip hop beats to relax and/or study to. The short animation shows a girl wearing headphones studying at her desk next to her Cat and a window. The animation "study girl" came to be known as a character that doesn't stop studying.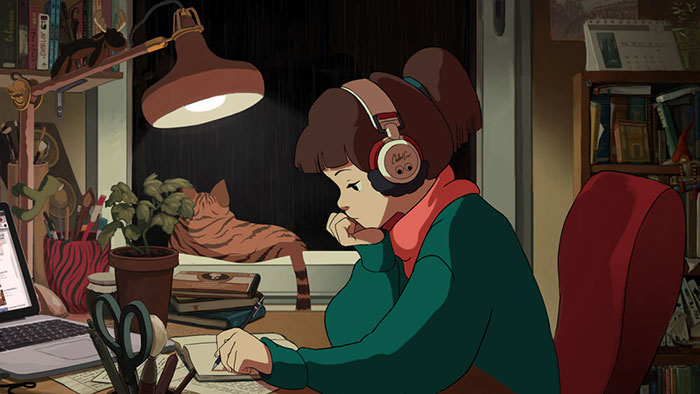 Earlier this year, the account was terminated following a mistaken suspension from YouTube and the live stream came to an end. With it, Chilled Cow produced one of the longest videos in YouTube history — over 13,000 hours — and amassed 218 million views in the process.
On March 19th, Chilled Cow uploaded the animation to the stream "Lo-fi hip hop mix – Beats to Relax/Study to" The video gained over 27.8 million views in two years.
In the time the lo-fi girl was studying, she could have achieved about 109 PhDs (120 hours per doctorate degree) or learn 7 of the hardest languages (1,730 hours for every fluent language).
Eventually, YouTube unbanned the account and its owner Dimitri relaunched the stream as a new video, allowing the girl to resume her studies.
Her fans were so happy to hear the good news, they started drawing her tributes, reimagining their beloved character in different countries all around the world.
#1 Hogwarts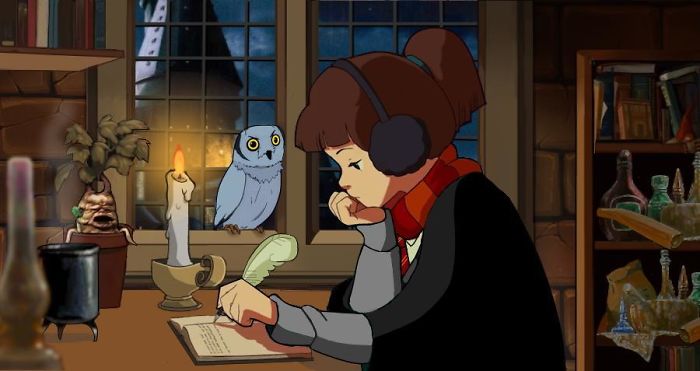 The mandrake root is out and screaming but she's unaffected because of the earmuffs. it makes me realize how sad I'd be at Hogwarts without My earmuffs & music.
#2 Belarus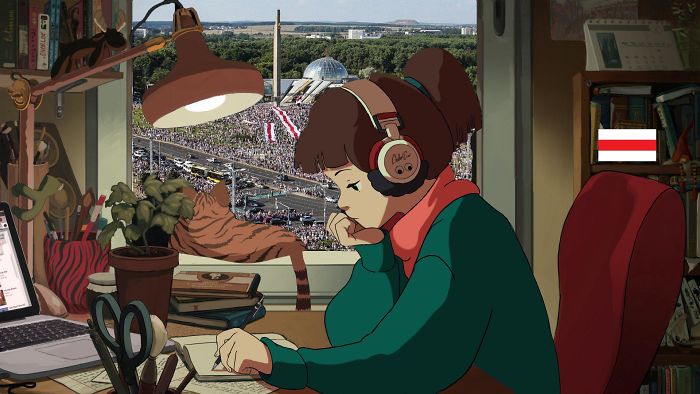 The laziest one yet.. I mean people are protesting and she just sits there, obviously she is lazy. She is probably Lukashenko supporter.
#3 Scotland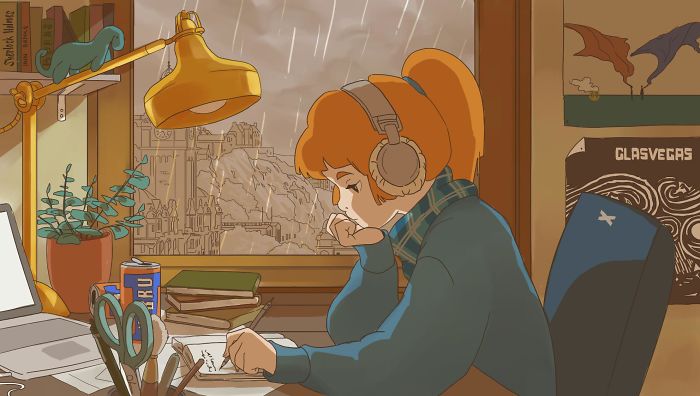 I love the can of Irn Bru sitting on the desk. Great visual touch there. And Edinburgh Castle and rain! Wait Rain in Scotland?? How odd 😂
#4 Australia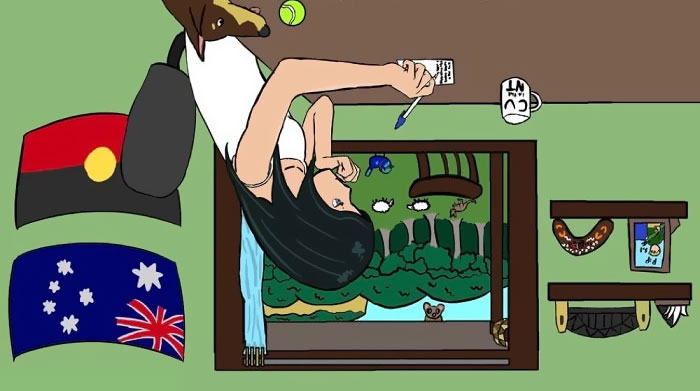 Someone: ʎuunɟ ʎllɐnʇɔɐ sᴉ sᴉɥʇ
C'mon. (Me as an Australian)
#5 Romania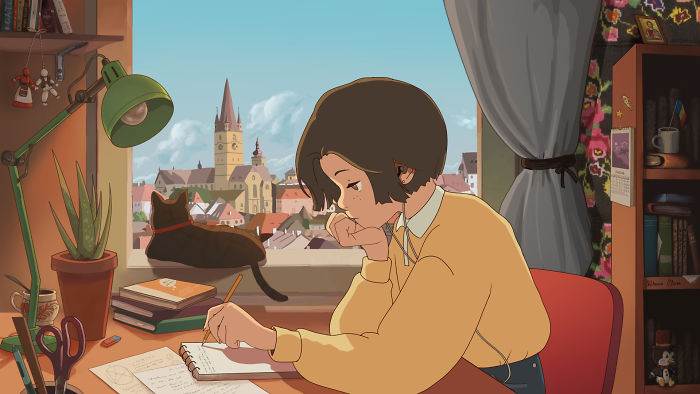 Aha every time I see that I think "is that girl still studying?!"
The world could get hit by a meteor (2020?), people would start a new life in space and Maybe she still would be studying. LOL
#6 Iceland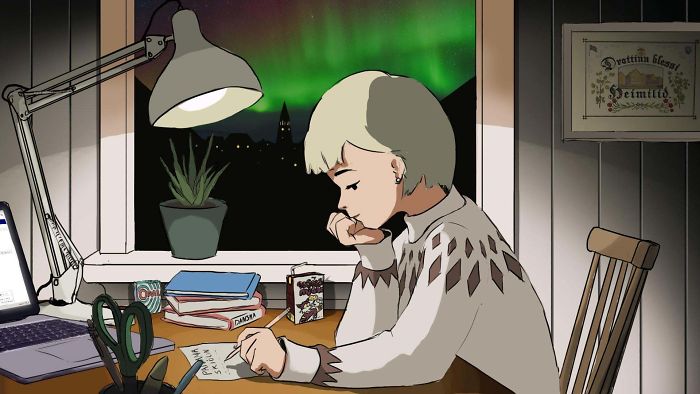 Man!! who would study instead of watching THE NORTHERN LIGHTS?
#7 Greece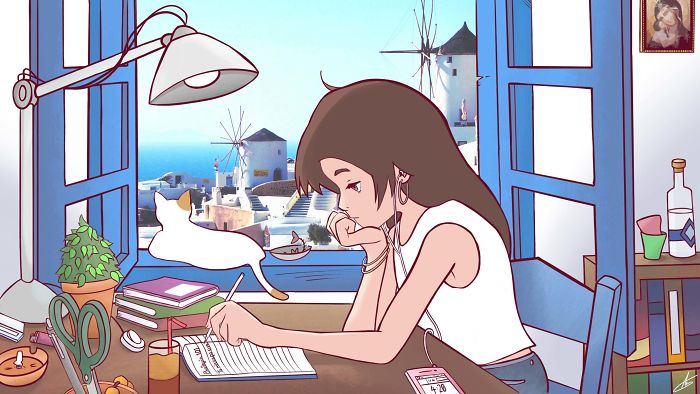 I would never have studied if I had seen such a beautiful view outside my room.
#8 Bulgaria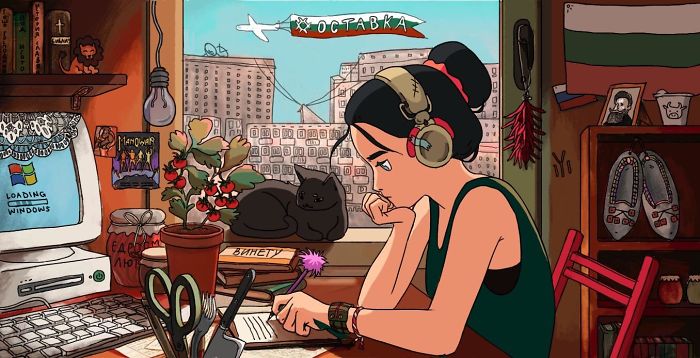 Bulgarians have doilies on their monitors like us (Indians) 😀 that is so cute!!
#9 Netherlands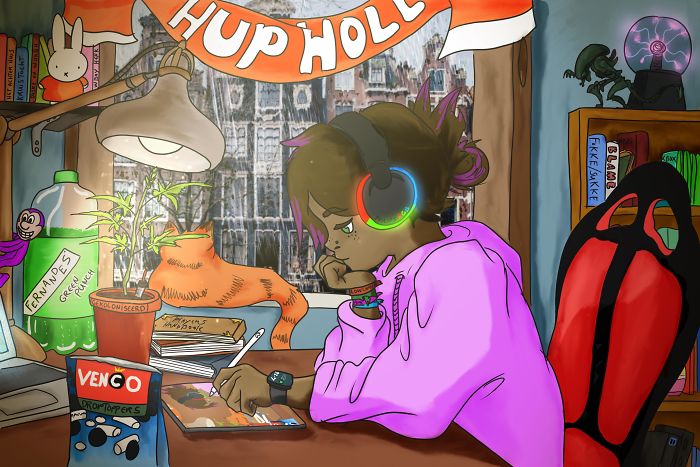 LOL does anyone notice she's drawing herself.
#10 Tokyo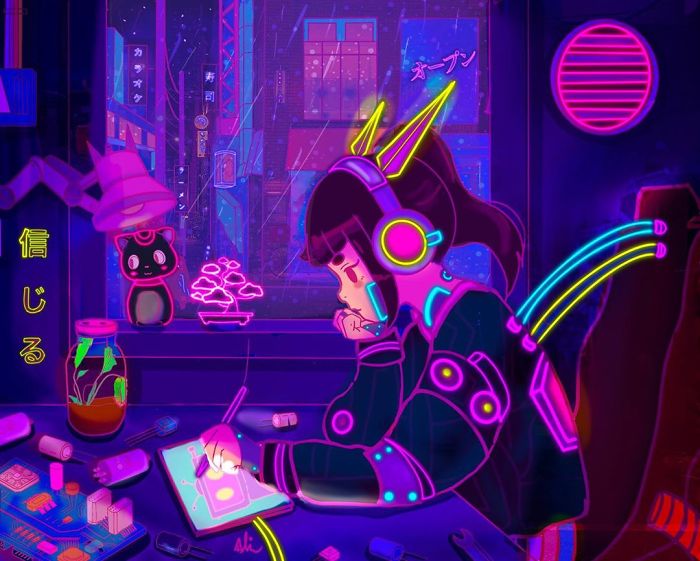 Less Tokyo and more NeoTokyo.
#11 Brazil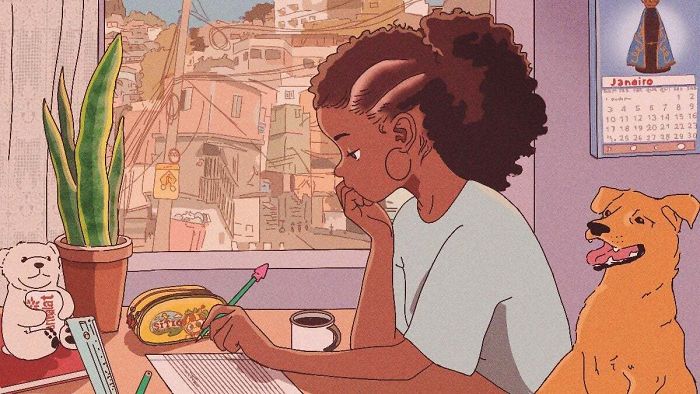 This is very accurate for Rio. But Brazil has so many different cultures inside it. This is only one of them.
#12 Denmark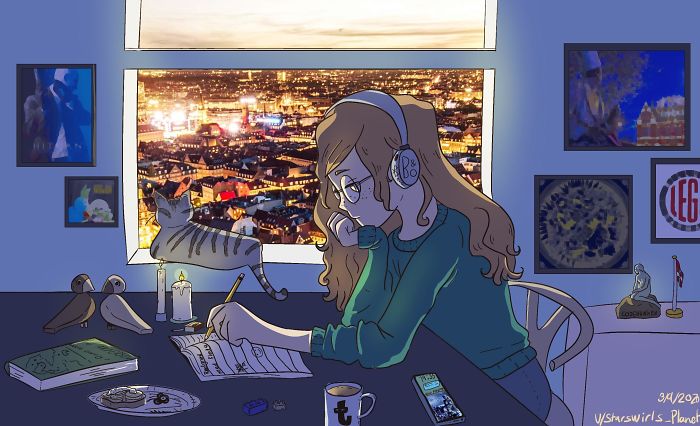 The outside view is so beautiful. 😍
#13 Paris, France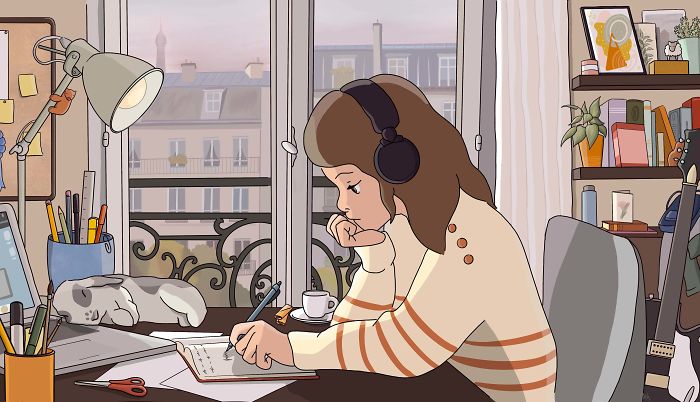 The rooflines, the balcony railings makes it so Parisian.
#14 Turkey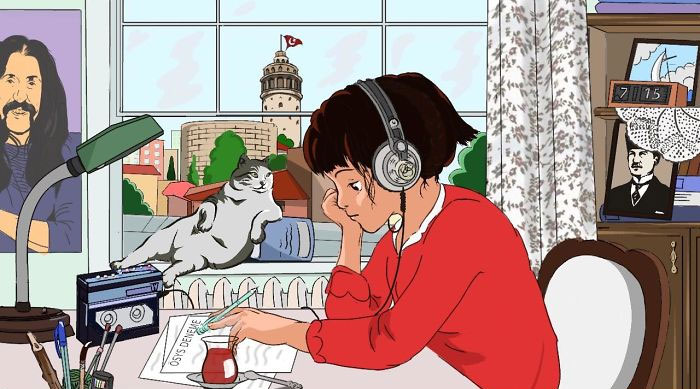 Haha the cat! But Turkey's standards not as old/low as cassette player and no computer.
#15 Japan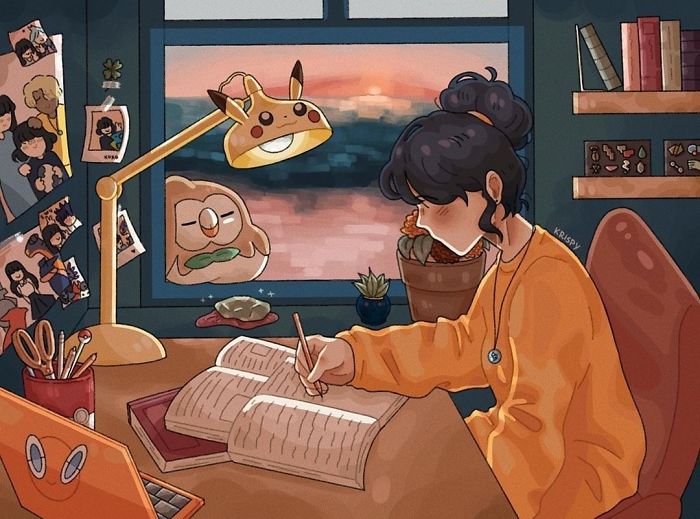 POKÉMON AHH SO MUCH POKÉMON =)
#16 Netherlands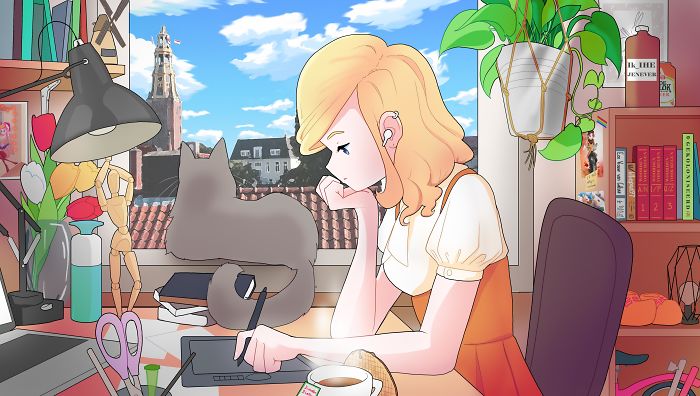 Theeeeeeeere ya go, THAT looks like a dutch house. Cramped, planted, and a cheeky earring. So many Dutch details 😃
#17 Morocco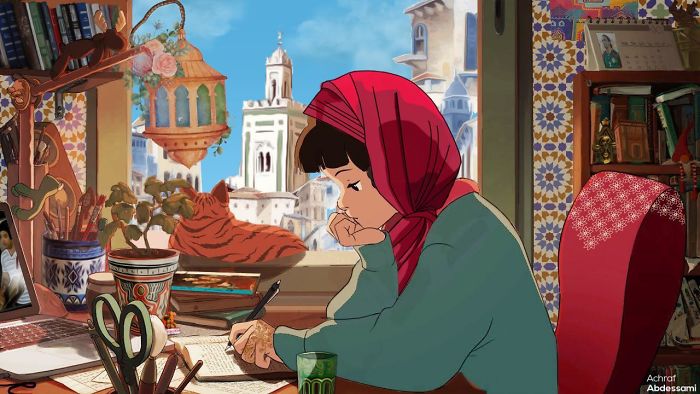 People know that Morocco is not in Europe, but there are millions of Moroccans living in Europe who will surely feel identified with this picture.
#18 Finland
Zoom open and dark outside Coffee cup and unikko curtains just top it of. Moomins mug and marimekko curtains, And Fiskars scissors, Snoooooowwwww. Pretty accurate description of typical remote school day at #2020.
#19 Hungary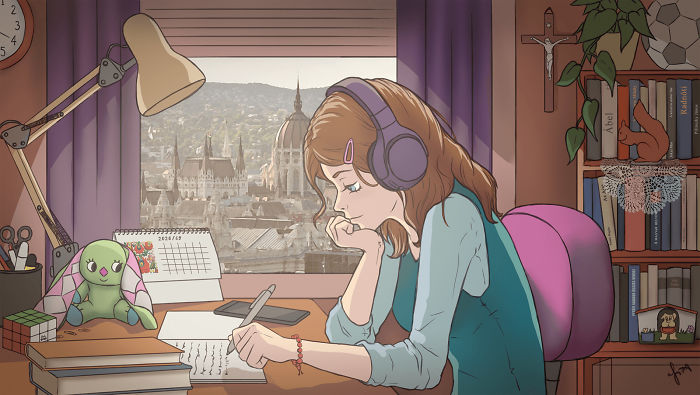 Oh-so-familiar little details (dog house piggy bank, the bunny with the checker ears, Rubik's cube. The cross on the wall And a DOILY from your grandma.
#20 Northern Finland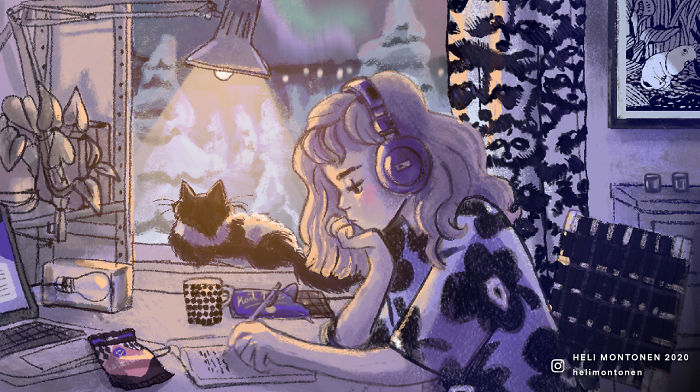 Now I want Northern Lights & Raccoon Curtains.
#21 San Diego, United States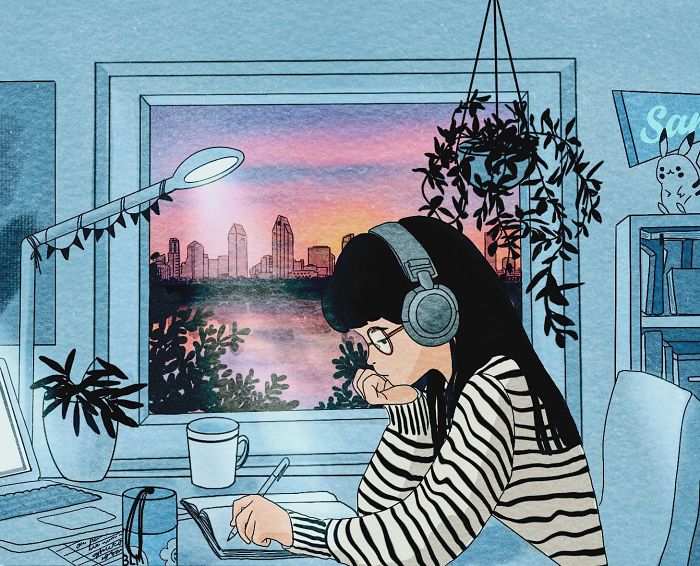 Watercolor! & this clearness …
#22 Lithuania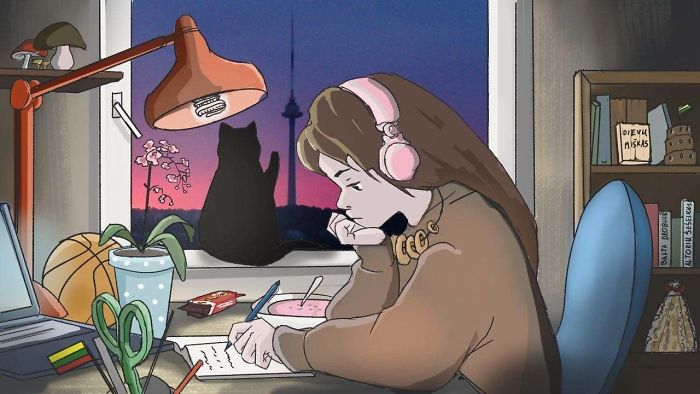 I wonder who the cat is waving to. 🐱👋
#23 Spain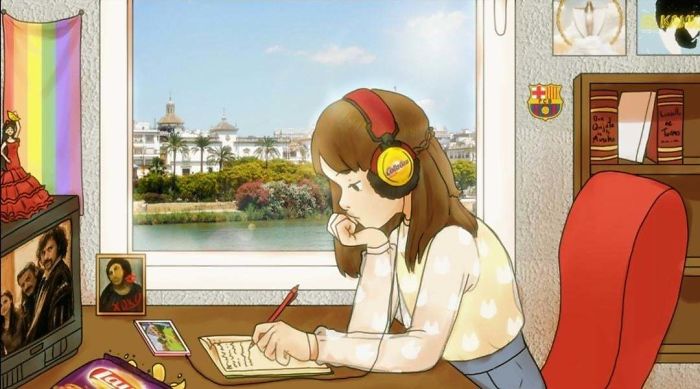 She's watching El Ministerio del Tiempo – awesome!
#24 Estonia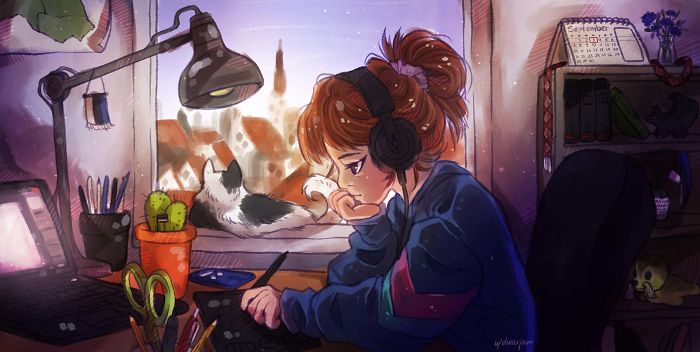 What? She's smart enough to do homework? (In Russia there is a stereotype about Estonians that they are the dumbest people in the world) LOL
#25 Finland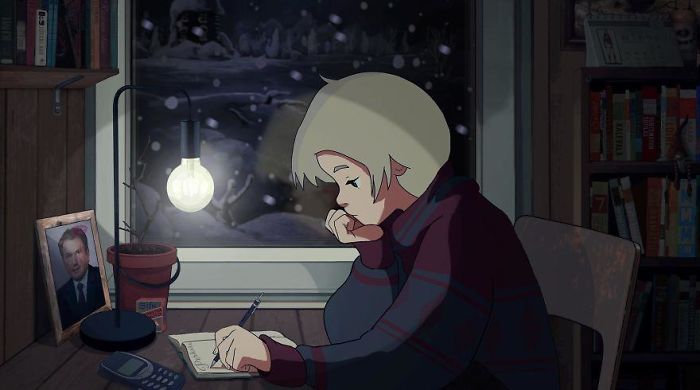 Nokia 3310, this definitely is Finland.
#26 Italy
Omg sex symbols prime minister Conte portrait and paleontologist Alberto Angela on the monitor ahhaa
#27 Norway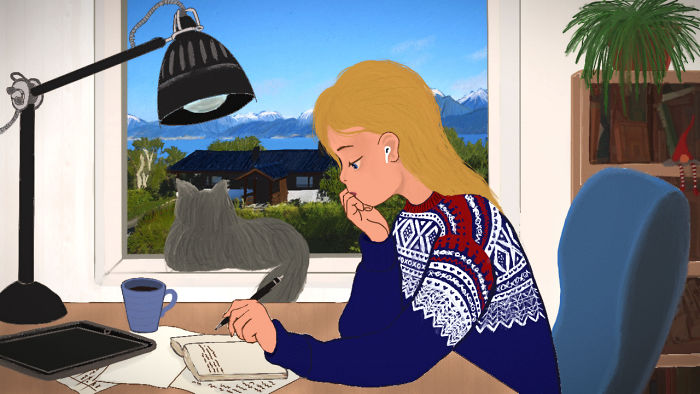 Wish I had that view!
#28 Qatar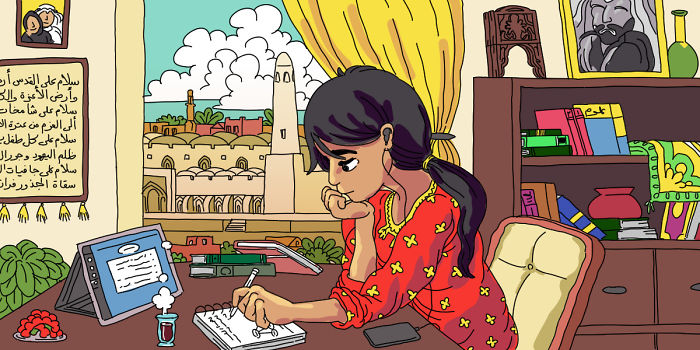 A poem for al kuds on the Wall.
#29 Croatia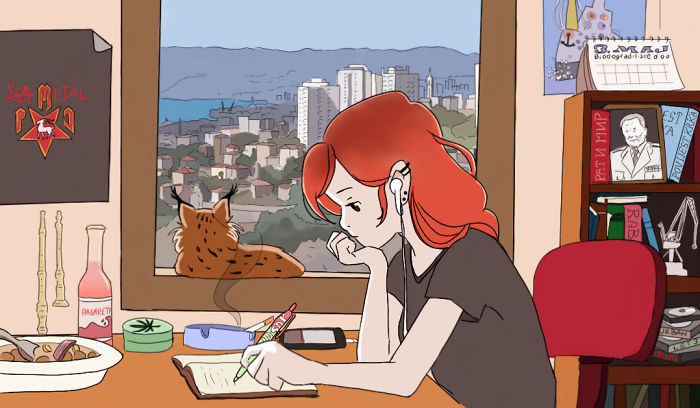 A cigarette and the BOBCAT in the house.
#30 Finland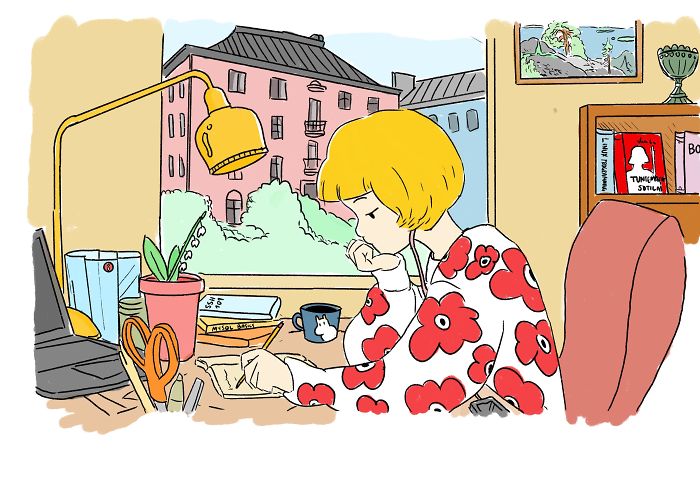 Linux programming &